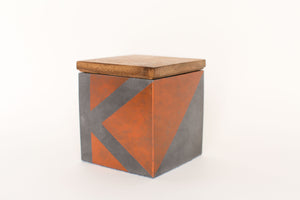 KNOWN - Conversation Starting Table Game
Sale price Price $78.00 Regular price Unit price / per
When was the last time someone asked you a new question?
A question that really made you think?
Unfortunately, it might be hard to remember because new questions are not that common in our day to day lives. We tend to get stuck in a pattern of small talk about the weather and surface level catch-ups about how our day went.
KNOWN is a conversation starting table game with questions designed to build connection. No far-out hypotheticals - we've found that people's real lives and stories are plenty interesting. 
KNOWN is designed to be left out in your home to encourage serendipitous discovery. Built from materials that last - concrete, wood, and fabric - so that you can start a family tradition by passing down this long-lasting heirloom.
With KNOWN at the table, long-time friends discover new things about each other, family members ask questions of each other that had never been asked before, and acquaintances follow up on question responses weeks and months later.
Know and be KNOWN.